The Mentoring Sessions
Kelly and Chris bond about overcoming comparisons
Chris Sebastian arrived at his mentoring session with Coach Kelly Rowland to find Aussie singer-songwriter Amy Shark would be joining in. He confessed it felt 'weird' to be in the Voice Semi Finals. "I had no expectations coming into this. I didn't know whether it was going to be received well, having a brother on the show," he confessed.
Chris revealed he felt he was living in his brother Guy's shadow for a long time, and explained he'd struggled when people would only associate him in that way. "Identity's been a real weird thing for me," Chris told Kelly and Amy. "I love Guy, but I've always kind of had to prove myself. Even just being taken seriously, it's been hard to be taken seriously.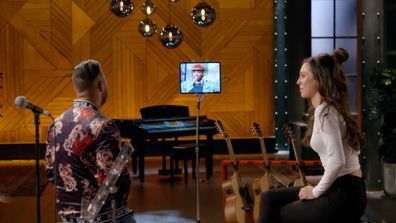 "I felt like you would get me?" Chris asked Kelly. His Coach didn't hesitate to answer honestly.
"I know this feeling," Kelly confirmed. "Could you imagine what it's like being in a group with Beyonce? I would just torture myself in my head like, 'well, I can't wear this dress cause they're going to say it's like Bey'. Or 'I can't have a song like that, because it sounds too much like Bey'. They're gonna compare anyways," she pointed out.
"I would be lying if I said, 'no, it's never bothered me'. That's bull," admitted Kelly. "There was a whole decade, if i'm being completely honest, DECADE that it was, like, the elephant in the room. But the thing that would constantly be on my shoulder."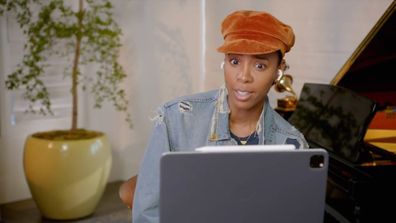 Chris said he felt validated from the conversation, after finding he wasn't the only one who's 'stood in the shadow'. "You are so different from your brother," added Amy. "And it's been so great for Australia to see that," she pointed out.
Kelly wanted Chris to channel those feelings. "This is your opportunity to carve your own path, even with him [Guy] sitting in that chair down there," she explained. Kelly announced Chris would be singing 'Before You Go' by Lewis Capaldi, a choice he was 'pumped' for.
"Let's win this thing," said Chris with zeal. "I didn't come here to come second. I came here to win."
---
Originally published on the 9now website as "The mentoring sessions that motivated the final four and caused Coach revelations" by Missy Burrell.
© The Voice Australia